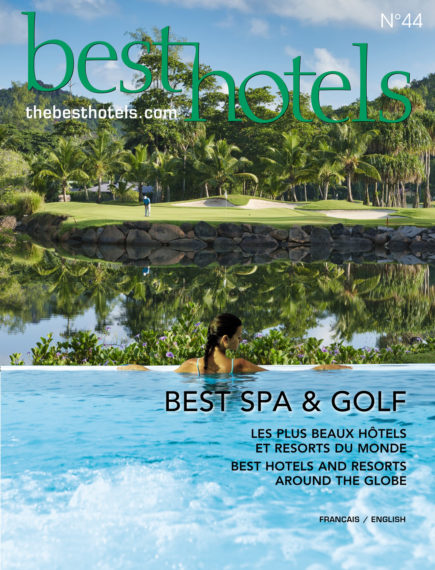 BIENVENUE !
Chaque rendez-vous avec votre magazine THE BEST HOTELS est une invitation au voyage.
THE BEST HOTELS MAGAZINE fête ses 15 ans, une formidable occasion pour nous de vous proposer une rétrospective de nos plus belles couvertures, celles qui ont marqué cette aventure.
Voilà 15 ans que notre magazine vous accompagne dans vos choix de voyages
Plonger dans THE BEST HOTELS est un moment d'exception vous permettant de découvrir des hôtels et des lieux plus magiques les uns que les autres.
Notre équipe vous emmène à la découverte de vos prochaines destinations, à la montagne, à la mer, à travers les 5 continents, au cœur des plus beaux pays du monde.
L'excellence, le luxe, la beauté, l'incontournable ou l'original, mais surtout l'amour du voyage sont au rendez-vous de ce BEST CELEBRATIONS. THE BEST HOTELS magazine vous offre l'opportunité de passer du rêve à la réalité.
A la veille de cette nouvelle année, toute notre équipe vous présente ses meilleurs vœux de bonheur, et vous souhaite de trouver ici le plus beau de vos voyages, à savoir le prochain.
Jacques SETBON, éditeur
jacques@thebesthotels.com
à propos
Créé en 2004,  The Best Hotels Magazine est un prestigieux magazine bilingue français-anglais en grand format de luxe.
Notre version imprimée est disponible aux kiosques haut de gamme situés en ville, dans des lieux touristiques, aux aéroports, gares et héliports, ainsi qu'aux meilleurs bars et salons à travers le monde.
30 000 exemplaires en version deluxe à couverture rigide sont lus par plus de 137 000 fidèles lecteurs internationaux.
Des versions numériques de haute qualité peuvent être achetées dans les kiosques en ligne du monde entier, en anglais et français :   MAGZTER   LEKIOSK 
EPRESSE
Notre site Web regroupe plus de 664 000 lecteurs internationaux passionnés. Ils sont épicuriens et à la recherche d'expériences haut de gamme.
Tous ces Best Hotels Medias ont été conçus pour partager avec vous notre passion pour des destinations et des lieux d'exception à travers le monde.Ce site est un concept unique. Il est à la fois une riche source d'information et un guide complet d'hôtels d'exception. Vous trouverez d'un côté, les coups de cœur de notre équipe de journalistes : les nouveaux hôtels et restaurants, les « top spots », leurs rencontres avec des personnalités fascinantes, des concepts d'avant-garde, des analyses thématiques, …
D'autre part, notre « best » outil de recherche vous permet de trouver l'hôtel de vos rêves dans tous les coins du monde et pour toute occasion, par ville, par pays ou en utilisant notre carte du monde.
Chaque hôtel présent sur ce site, a été sélectionné selon des critères de qualité tels que le lieu, la réception et les services, l'équipement de la chambre et la qualité du lit, le design les petits déjeuners et les restaurants, et les extras et expériences qui en font un BEST HOTEL !
Les bureaux de la rédaction à Paris :
The Best Hotels Magazine
9 avenue de Friedland
75008 Paris, France.
contact@thebesthotels.com
Tweet