WELCOME ON theBestHotels.com!
Our website has been conceived to propose you what is most luxurious in the international hotel environment.
Our articles and news keep you informed about the new trends in design, in ecology and in well-being, as well as of the opening of prestigious luxury hotels.
theBesthotels allows you to find the hotel of your dreams in every corner of the world and for any opportunity thanks to an optimal search tool.
theBestHotels magazine was born in Paris, in April 2004, exactly 10 years ago. We are very pleased to celebrate this year our anniversary with you through a selection of the most beautiful hotels of the city of Light: Paris.
This is also the occasion for us to launch our brand new iPad App of theBestHotels.
We are therefore most delighted to offer you for this anniversary edition dedicated to Paris, a free downloading of this issue thanks to a simple click on the icon below: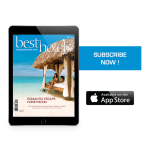 Tweet