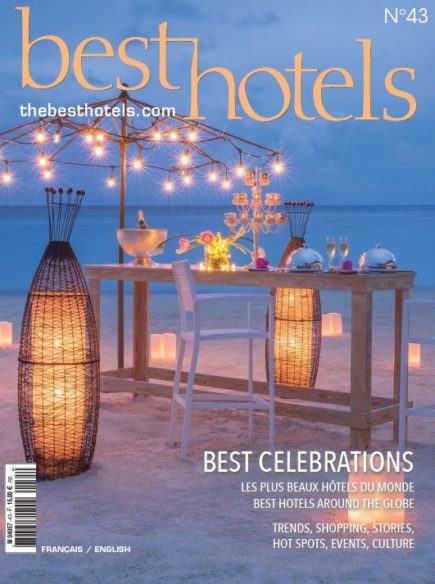 Dear Reader,
Each rendez-vous with your magazine THE BEST HOTELS is an invitation to travel. 
The BEST HOTELS MAGAZINE celebrates its 15th anniversary. An important moment for us and we have pleasuring in offering you a retrospective of the best front covers which have marked this adventure.
Our magazine has accompanied you in your choice of travel destinations.
Immerse yourself in the BEST HOTELS magazine and discover an amazing choice of hotels and places. Our team takes you on a journey to discover your next destination in the mountains, by the sea, across 5 continents in the heart of the most beautiful countries in the world.
Excellence, luxury, beauty, the unmissable or the unique, but always the love of travelling: everything is in BEST CELEBRATIONS. The BEST HOTELS magazine offers you the possibility to make your dreams come true. Our team would like to take this opportunity to wish you our best wishes of happiness for the New Year and happy travels… the next one will be the best. 
Jacques Setbon
Editor in chief
About The Best Hotels Magazine
Created in 2004, the Best Hotels Magazine is a prestigious bilingual French-English large format deluxe magazine.
Our printed version can be purchased at : Airport, Heliport Kiosks and Lounges , High end kiosks  + Relay airport  + Best Hotel Bars and Lounges worldwide
Total 30 000 hard cover "coffee table" copies   : 137,000 international high end readers
High quality digital versions can be purchased at online kiosks worldwide :   magzter   lekiosk    epresse

Our web site gathers over  + 664,000  international regular passionate readers. They are epicureans and passionate in high-end quality travel experiences and state of the art technologies.
All those Best Hotels Medias have been conceived to share with you our passion for destinations and exceptional places around the world.
This website is a unique concept being both, a rich source of information and a comprehensive guide to exceptional hotels.
One one side, team of travel writers invites you to discover their favorites : new hôtels and restaurants, top spots, fascinating personalities, avant-garde concepts,  thematic reports, …
On the other side, our best research tool allows you to  find the hotel of your dreams in every corner of the world and for any opportunity, by city, by country or using our world map.
Each hotel as been selected according to criteria based on quality requirements such as place, reception and services, room equipment and quality of the bed, design, breakfasts and restaurants, and the special extras and experiences that make it a best hotel !
… and for now, just discover and enjoy!
Paris Editorial Head Office :
The Best Hotels Magazine
9 avenue de Friedland
75008 Paris, France.
contact@thebesthotels.com
Tweet